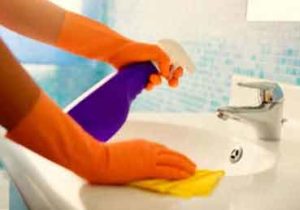 With COVID-19 being declared as a pandemic by WHO, people across the world are using different means to cope with the implications of the spread of the virus. As global travel and trade continue to be affected, several countries have asked their citizens to take appropriate precautions ranging from self-declaration of travel history to preventive quarantine in case of any symptoms as well as a general upkeep of hand hygiene.
While many are opting for varying degrees of social distancing, it is not a possibility for many. It is ideal to avoid spaces used by large crowds or any form of mass gatherings but that may not be as easy for those relying exclusively on public transport.
Given that the virus can survive on surfaces for a long time, it becomes pertinent to use disinfectants and surface cleaners wherever possible. If a workplace has not been shut down, they must take adequate measures to clean all objects and surfaces from time to time. Similarly, at homes, where all members may not be practicing social distancing, it becomes critical to use disinfectants as even if one person is going outdoors, it increases the risk of infection for all those who are in close contact with that person.
According to Brij Suri, founder of Dubai Instruments, corona virus requires us to embrace deep cleaning. "If we can successfully ensure two clean hands and one clean table, we will be a lot closer to eliminating the threat posed by this virus. This is a challenging situation certainly but can also be the right moment to take stock of our hygiene practices and re-look at the concept of cleaning.," he explains.
For instance, irrespective of the physical space we are in, most of us are holding our phones in our hands for a large duration of the day. Thus, even if one washes their hands properly but goes back to touching the phone, they have managed to transfer pathogens onto their hands. Therefore, it becomes significant to use alcohol-based surface disinfectants from time-to-time on objects that we may be coming in regular contact with. According to the United States' Centers for Disease Control and Prevention, some of the frequently touched surfaces which must be cleaned regularly are tables, doorknobs, light switches, handles, desks, toilets, faucets and sinks.
If your organization has specific requirements, we've got you covered! Check out our trusted range of Purell & PTS sanitisers and wipes that will keep you safe and healthy from any infection.
Check our catalogue and get in touch today! https://dubaiinstruments.com/category/hygiene/