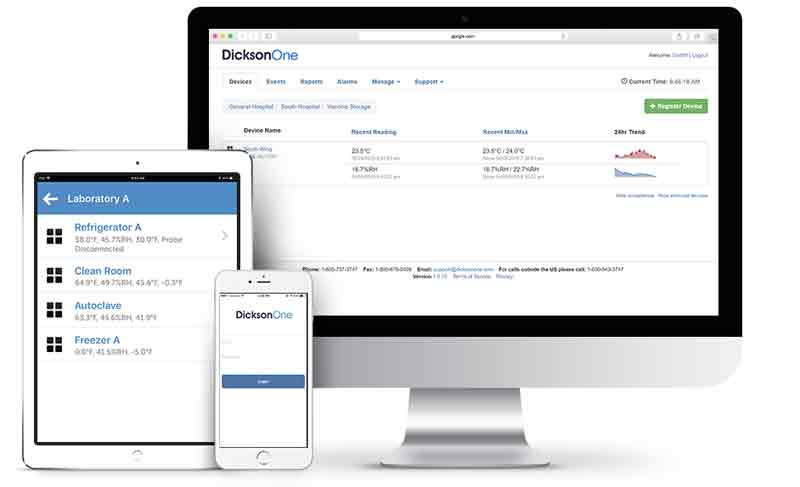 The Middle East's leading Distributors in Scientific and Technical Instruments
Dubai Instruments is the Middle East , Africa and Asia's leading provider of Innovative Scientific and Technical Solutions (Products and Services) with offices in Dubai, London, Singapore and India.
One of the foremost distributors of scientific and technical instruments and part of the Phi Sigma General Trading L.L.C Group, it has become a global name in delivering quality solutions to customers, at highly competitive prices offering high value and innovative solutions.

DATA ACCESSIBILITY
No more downloading data or changing charts. Cloud-based DicksonOne does the work for you.
REPLACEABLE SENSORS
Replaceable Sensors make it easy to monitor without interruption when it's time to recalibrate.

DATA ACCESSIBILITY
In highly compliant environments that are heavily regulated, our systems check all the boxes.

SUPPORT
Whether you have one device or 100 devices, we support you every step of the way.
Are You Operating in a Highly Compliant Environment?
Calibrate your devices to ensure their accuracy. Using Phi Sigma Calibration on-site ISO 17025 A2LA accredited
calibration laboratory is the best way to guarantee that your Phi Sigma Calibration  instrument is calibrated properly.
Experts in More Than Monitoring
Phi Sigma General Trading L.L.C has been helping organizations with their monitoring needs for almost a century. Now, our team of experts is taking compliance one step further by offering time-saving services. We'll help manage your compliance process from start to finish, leaving you with proper documentation and peace of mind.
Solutions for Your Industry
Phi Sigma General Trading L.L.C provides validated solutions and services for over 80% of Fortune 100 companies in highly-regulated industries including pharmaceutical, healthcare, medical device, food and beverage, aerospace, 3PL, transportation and more. As the compliance partner of over 80,000 customers worldwide, Phi Sigma General Trading L.L.C helps to protect billions of dollars worth of assets.
Whether you're new to Phi Sigma General Trading L.L.C or have been with us for years, our specialists are here for you. Click below to send us a message or call us at +971505520801.